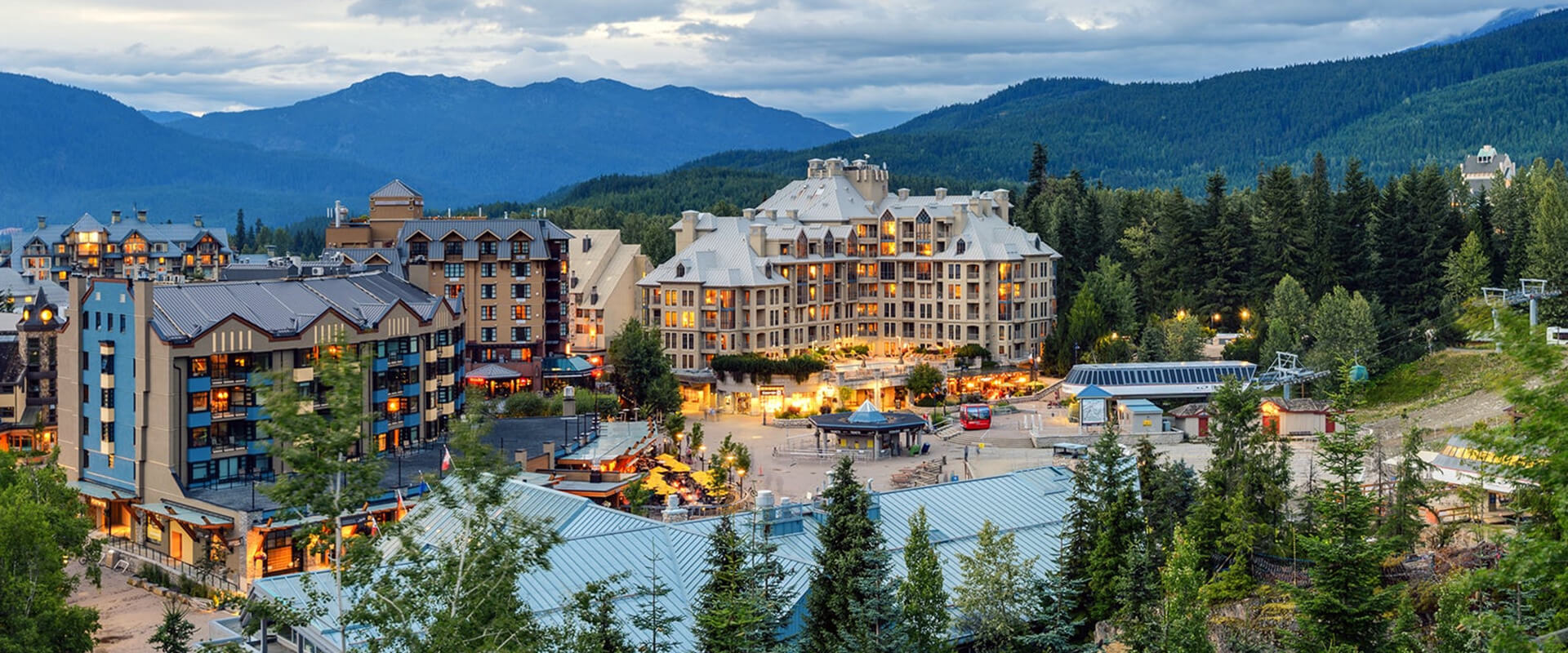 We make owning a vacation home easy. For everyone. For every budget
Profitable, complete and flexible rental management.
Rent with us, rent with confidence.
Find out how much your vacation home should be earning
…Discover full revenue potential of your vacation home with an accurate income estimate!
Earn more. Stress less.
Profitable, complete, and flexible rental management service.
Introducing the ultimate vacation rental management solution! Wondering how you can increase your short-term rental income and make life easy on yourself? Look no further. Our comprehensive service is exactly what you need.
Profitable
Our service comes packed with the most advanced pricing algorithms on the market, designed to help you get the most out of your investments. With our sophisticated system, you'll be able to price your rentals dynamically and accurately so that you'll bring in 20% more per annum than before. We only get paid when you do. No upfront or set-up fees. One simple and affordable management fee. Homes in our care rank in Tier 1, best performing listings on Airbnb
Complete
Our short-term rental management services provide a one-stop shop for all of your needs. From guest communication, housekeeping, and key handling to income-maximizing pricing and listing setup, we have you covered. With our help, you can bid goodbye to hassle and worry about running the rental business. All our services in one place, helps keep everything neat and organized at all times. No more time spent coordinating with multiple service providers; we have got it all covered for you.
Flexible
Our service offers unparalleled flexibility and convenience. With no contracts, commitments, or minimum charges, you can choose exactly the services you need when you need them. This allows you to tailor our services to suit your exact requirements and budget, with no long-term financial obligations. Furthermore, our pay as you go model provides perfect scalability; if your requirements increase or change over time, so too can your service plan
4.8/5
Avg. guest rating
2,766+
Guest reviews
4620+
Guest reservations
$5.3M+
Revenues earned
24/7/365
Guest support
AtEase BnB is a
A study by AirDNA in 2022 shows that only 8% of professional managers achieved the Superhost status. We are one of them.
Superhost status is an ongoing commitment to exceptional hospitality.
Taking care of guests pays off. What's in it for you?
Statistics show that hosts earn significantly more revenue on Airbnb when they receive a Superhost status.
1 81% higher occupancy rate
2 60% more revenue per available day
3 5% improvement in listing traffic
4 Improved short-term rental profitability
---
Case studies
—– CASE STUDY 1
★ 4,85 Bear Lodge, 4314 Main St -one bedroom condo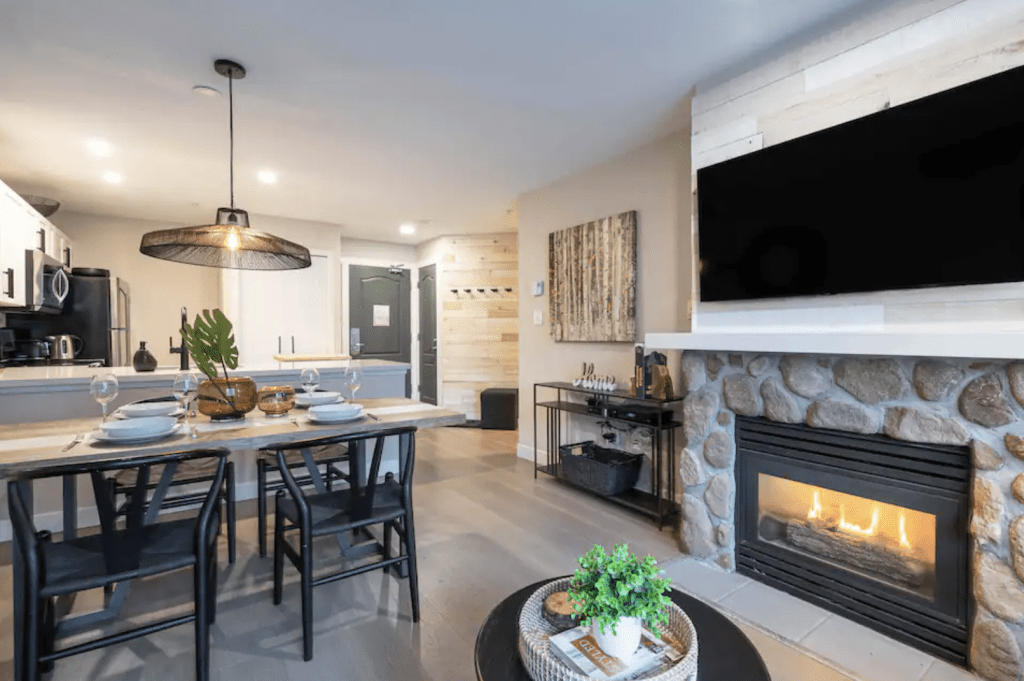 A modern one-bedroom unit, featuring an open kitchen and living room. After a small renovation and listing optimization, our team reached a very high occupancy rate of 88.6% and according to an Airbnb report, it's 29.6% higher occupancy rate compared to similar units from this area. Earning for the last year (from November 2021-2022) reached astonishing $78, 810 CAD.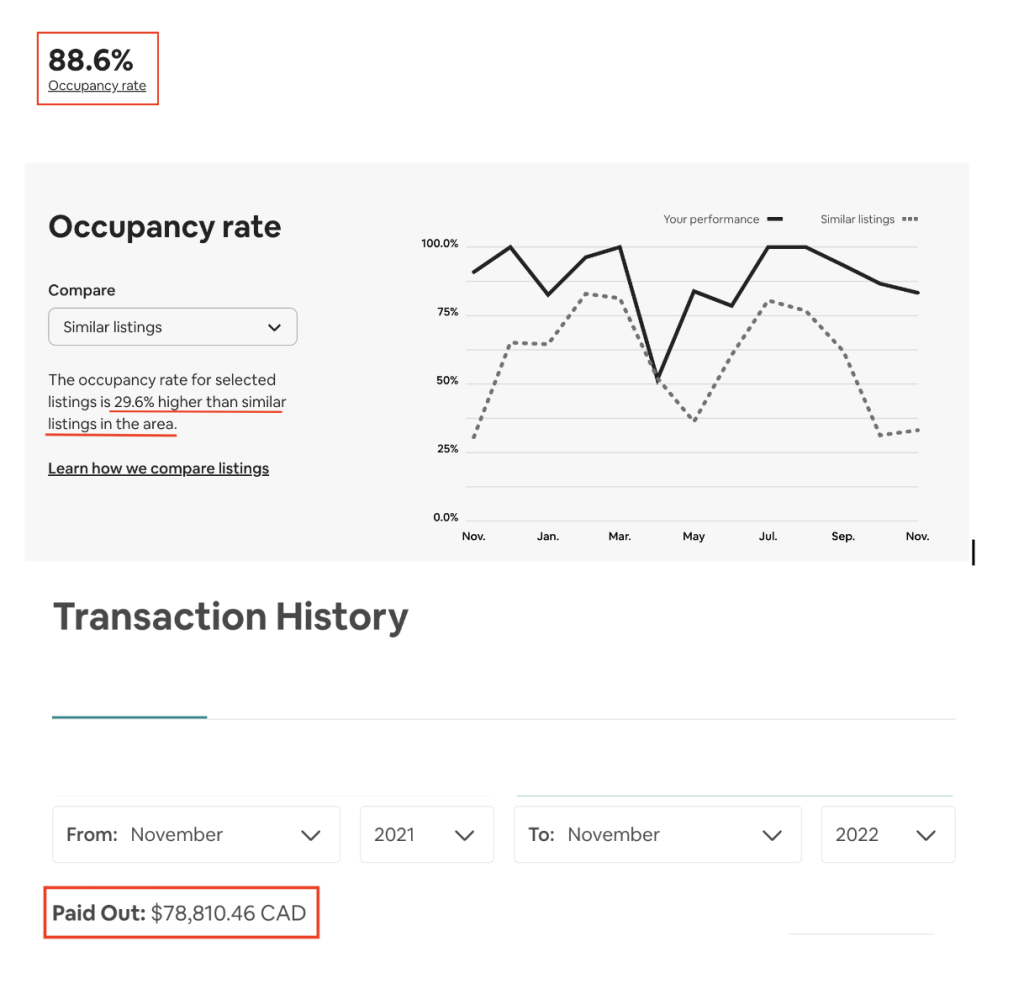 —– CASE STUDY 2
★ 4,67 The Gables, 4510 Blackcomb Way-one bedroom loft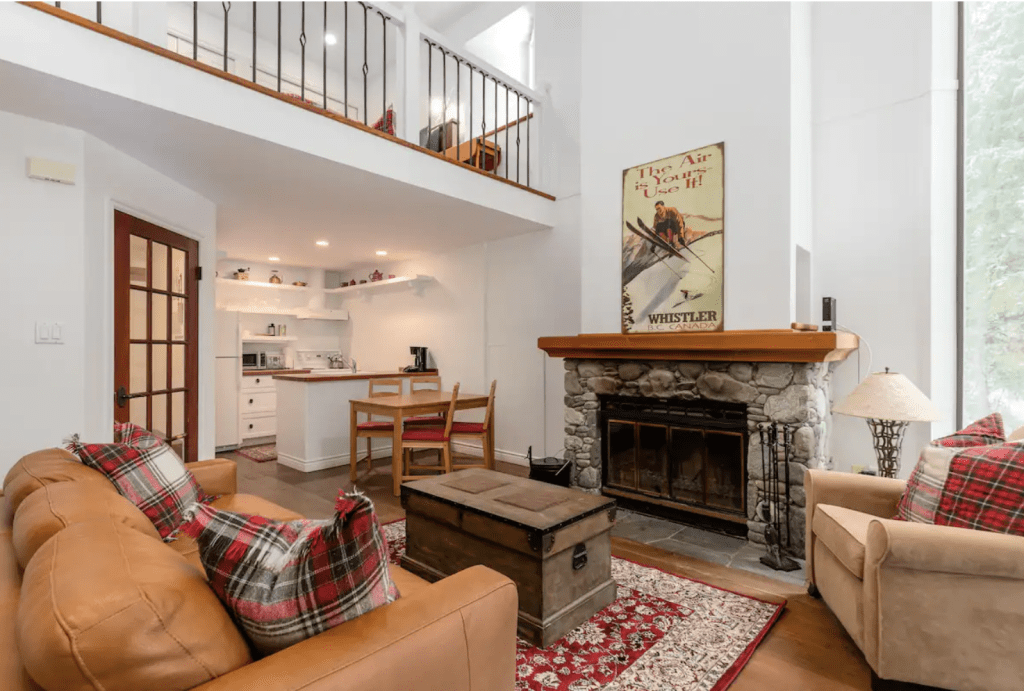 Beautiful loft facing Fitzsimmons Creek in a quiet forested area in the Gables complex. Under our management, this listing has an occupancy rate for the past year (Nov 2021 – Nov 2022) 44.2% higher than similar listings in the area, resulting in a total occupancy rate of 82.7%. Earnings for the same period were $71,130 CAD.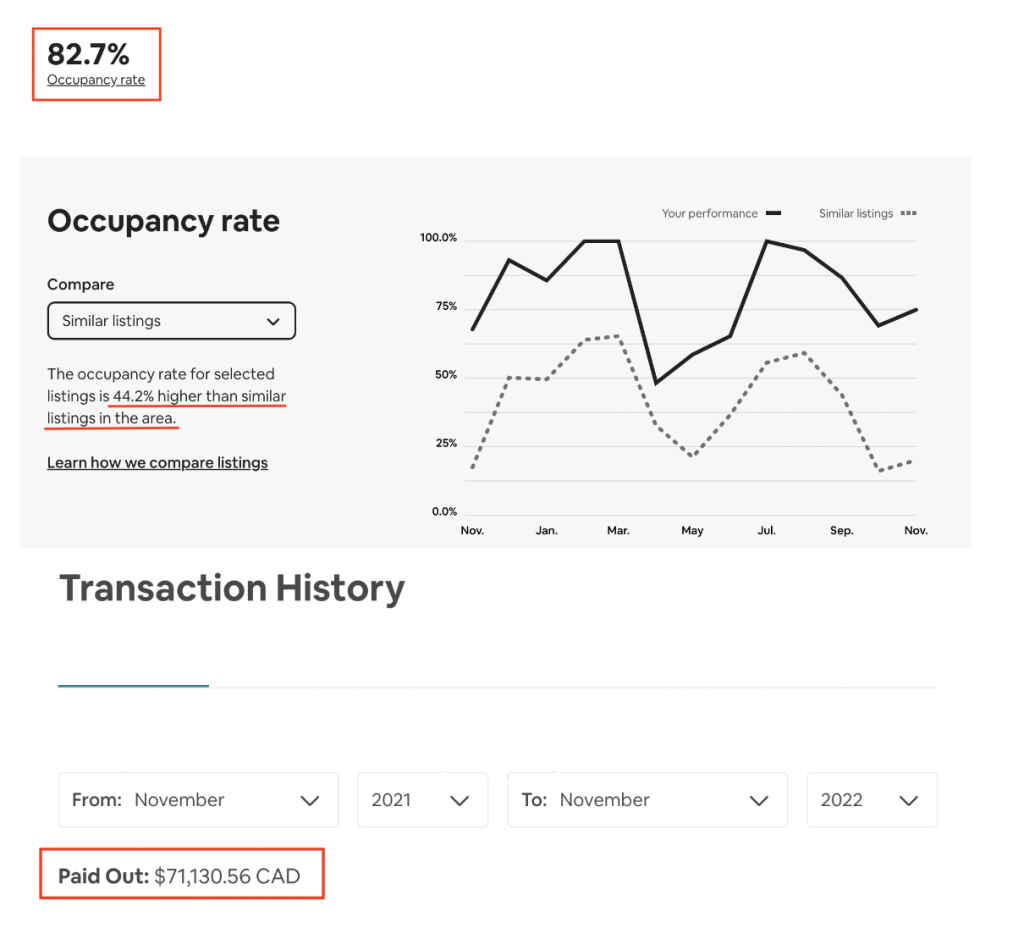 —– CASE STUDY 3
★ 4,76 Market Place, 4360 Lorimer Rd-one bedroom condo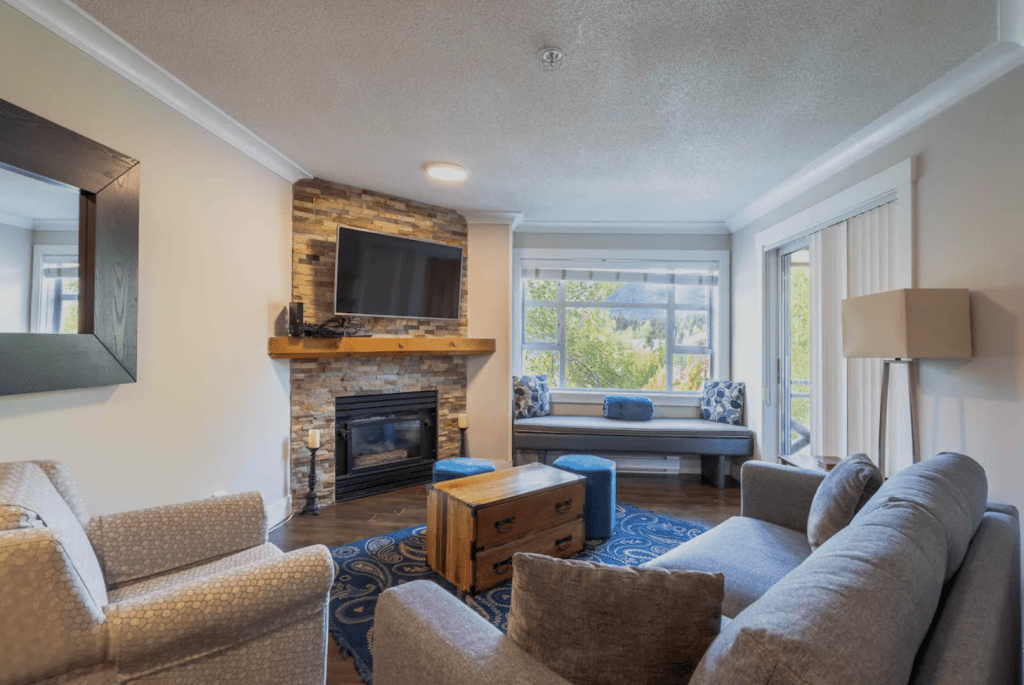 This cozy Whistler village apartment performed 20.4 % better than other similar listings in terms of occupancy. For the past years, from November 2021-2022, we reached a total occupancy rate of 81.6%. Total earnings for the same period were $63,323 CAD.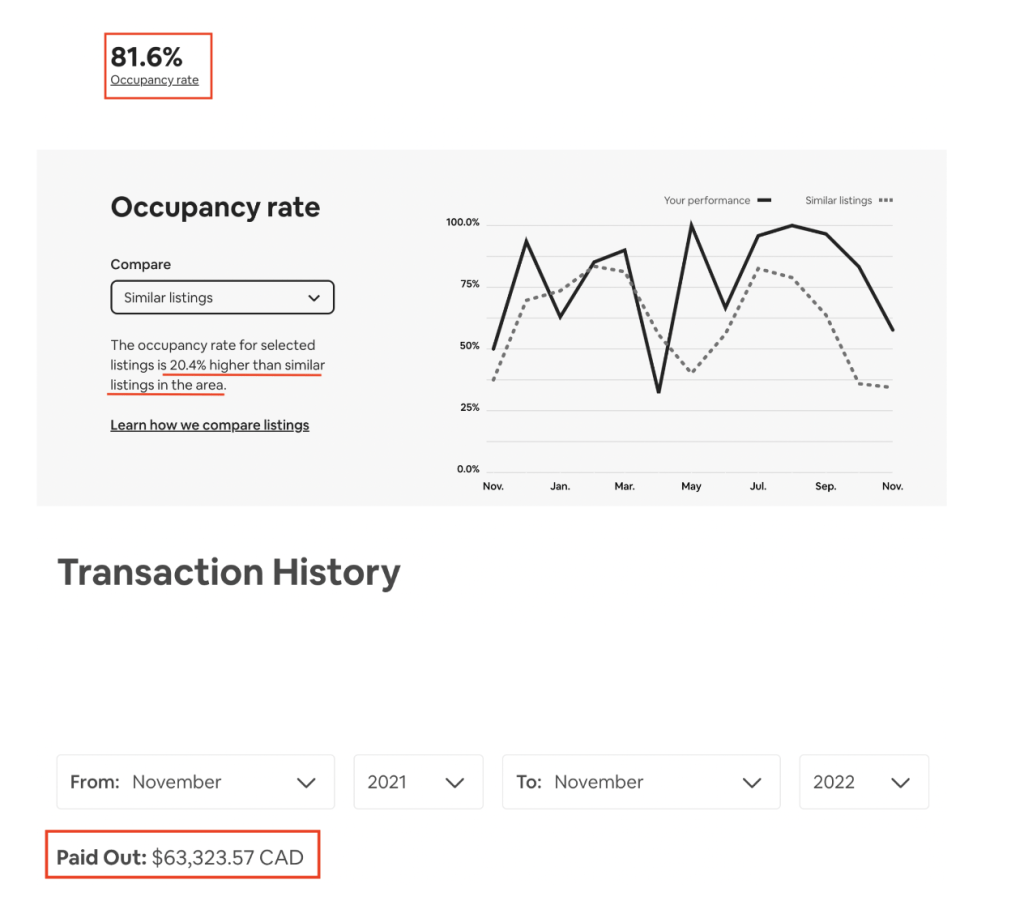 —– CASE STUDY 4
★4,71 Hearthstone, 4211 Village Square-one bedroom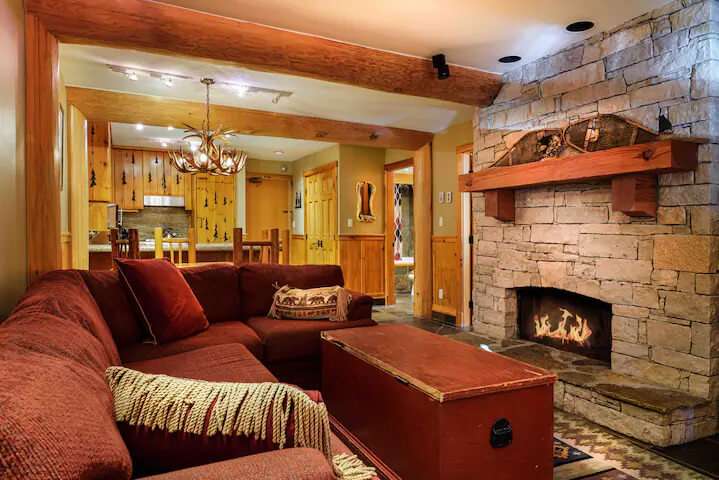 One bedroom condominium with a private hot tub performed very well in the past year, total occupancy reached 92.5%, with a 64.7% higher occupancy rate than similar listings. Thanks to price and listing optimization our team was able to earn $114,387 CAD.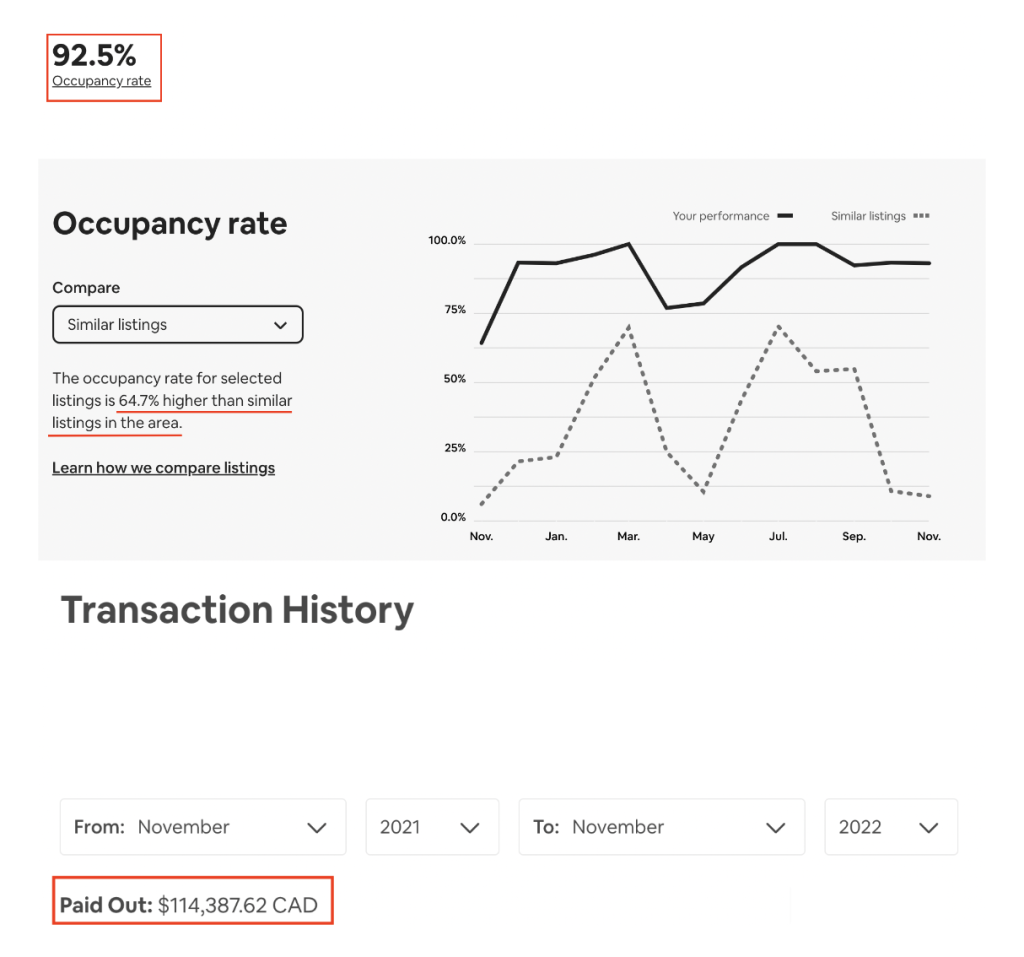 —– CASE STUDY 5
★4,78 The Gables, 4510 Blackcomb Way – 1.5 bedroom condo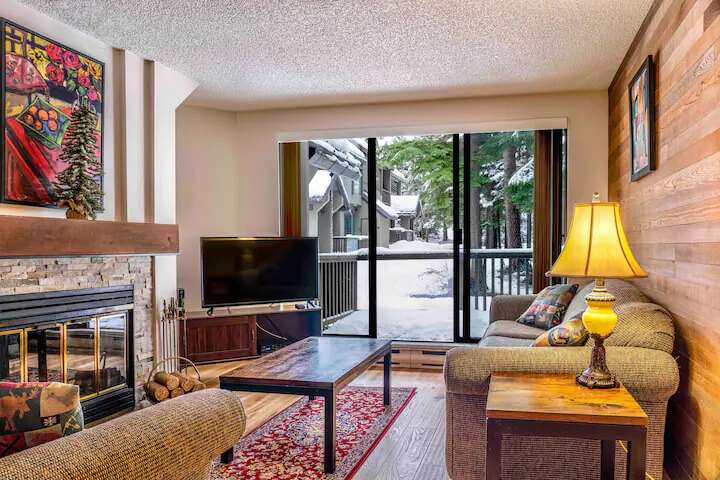 Thanks to the partial renovation that we have done last year, this condominium reached an 81.5% average occupancy rate. And in comparison to other listings from this area, it performed 44.5% better. The earnings were $ 71, 738 CAD last year.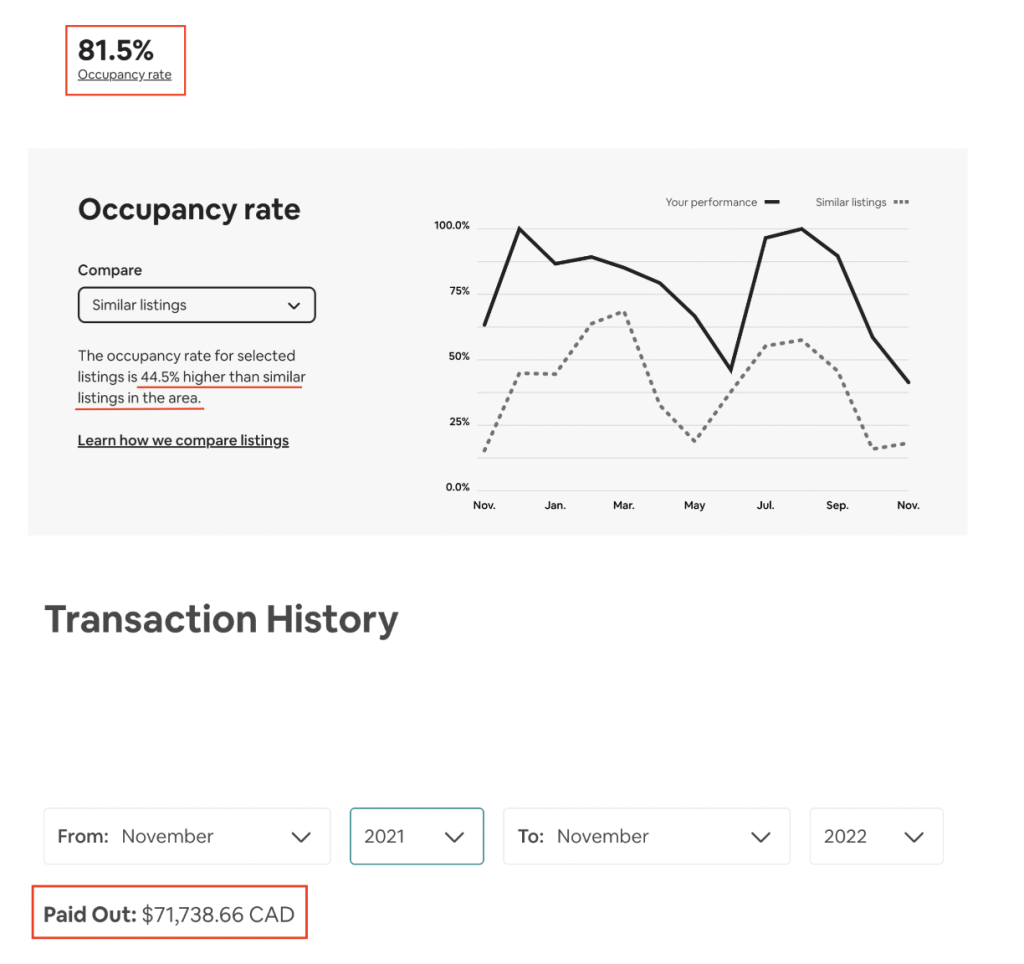 —– CASE STUDY 6
★4,87 Cedar Ridge, 4705 Glacier Dr – 5 bedroom chalet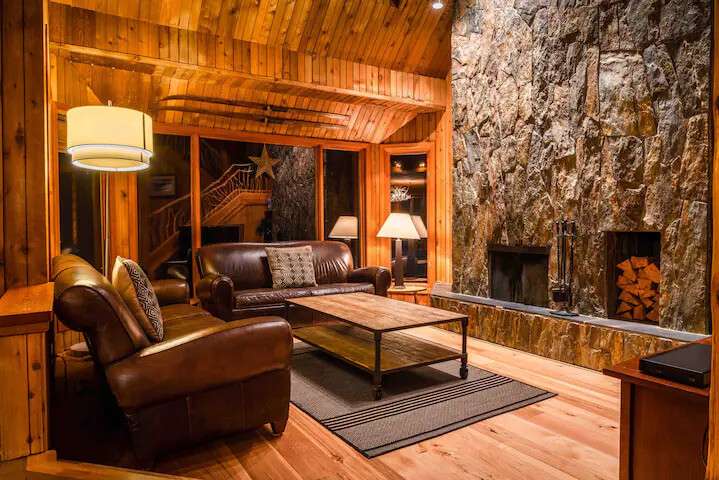 This 5-bedroom cabin located on Blackcomb Mountain Ski Hill experienced a great performance in the number of bookings last year. Overall average occupancy was at 65% and that was 41.6% higher than similar listings in the area. Earnings for the past year were $ 386,000 CAD – for your reference, revenue potential for properties in this area is $ 284k.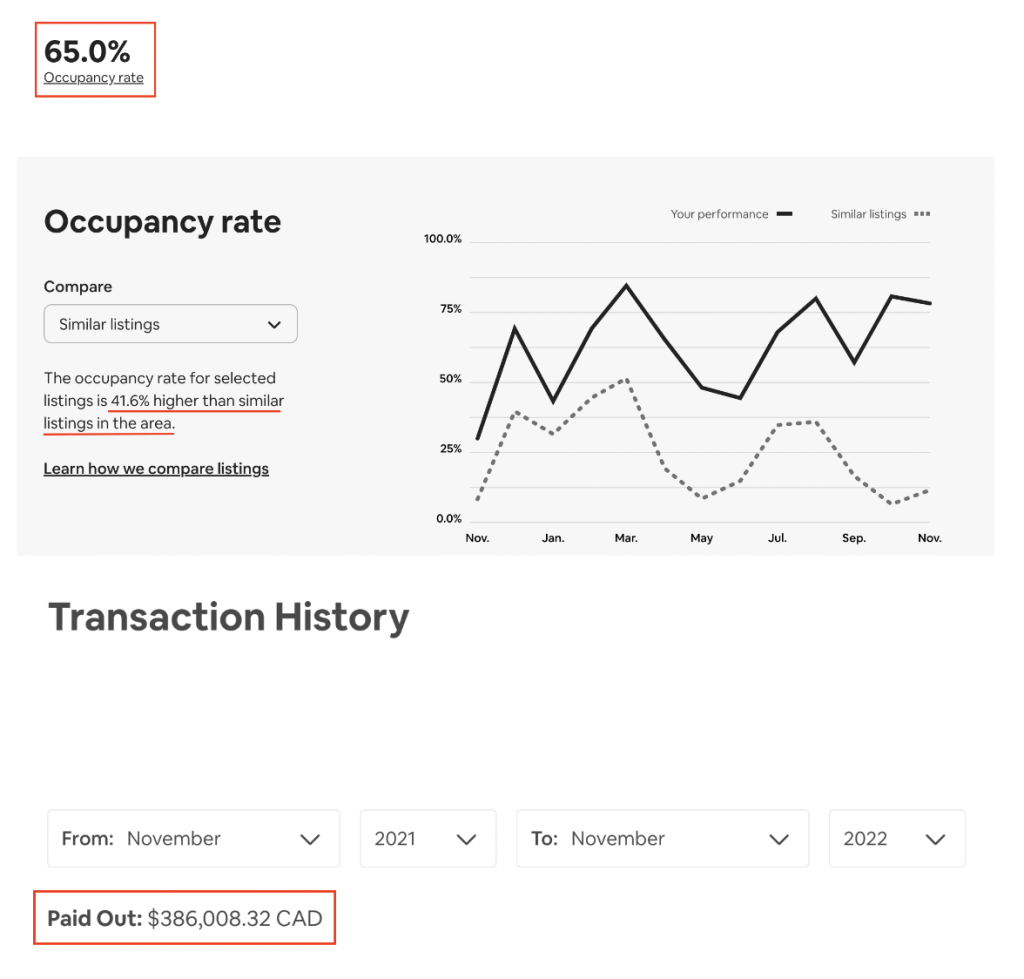 —– CASE STUDY 7
★4,77 Telemark, 4100 Whistler Way – 3 bedroom townhouse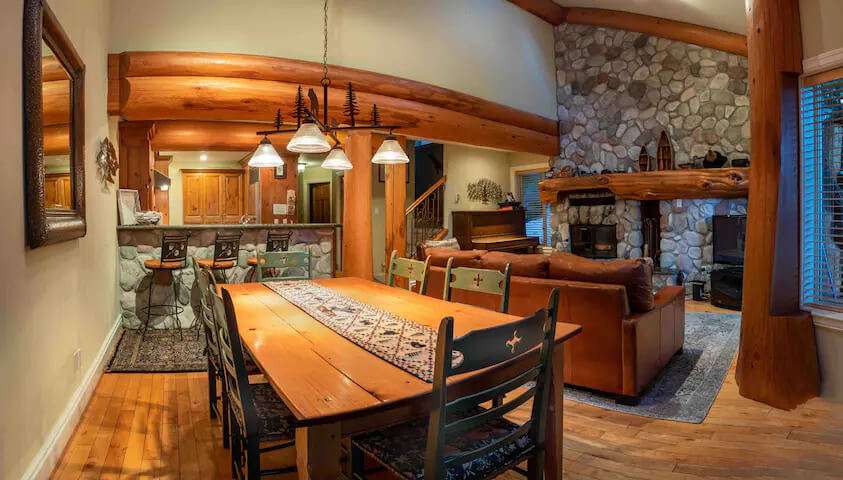 This rustic mountain cabin performed, from November 2021 to 2022, 25% better than similar listings in Telemark's area, resulting in a total occupancy rate of 58.4%. Earnings surpassed the market average and thanks to our team we made a profit of $ 148,756 CAD.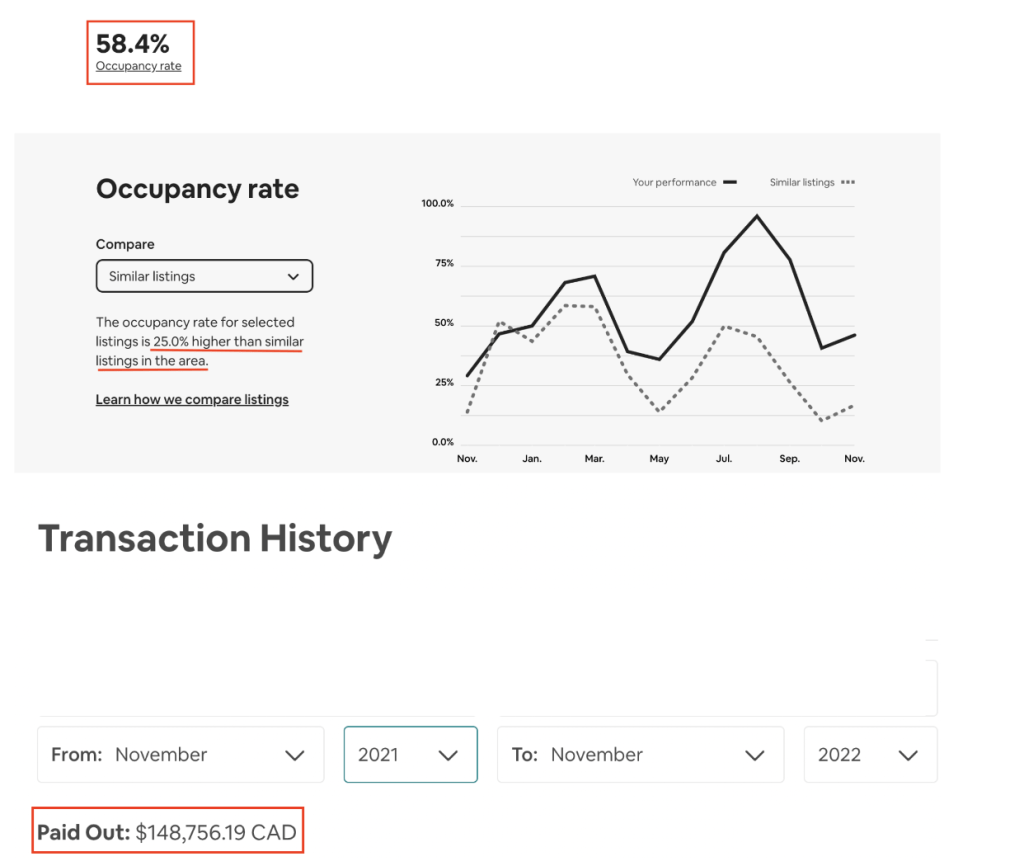 —– CASE STUDY 8
★4,80 The Gables, 4510 Blackcomb Way – 3 bedroom condo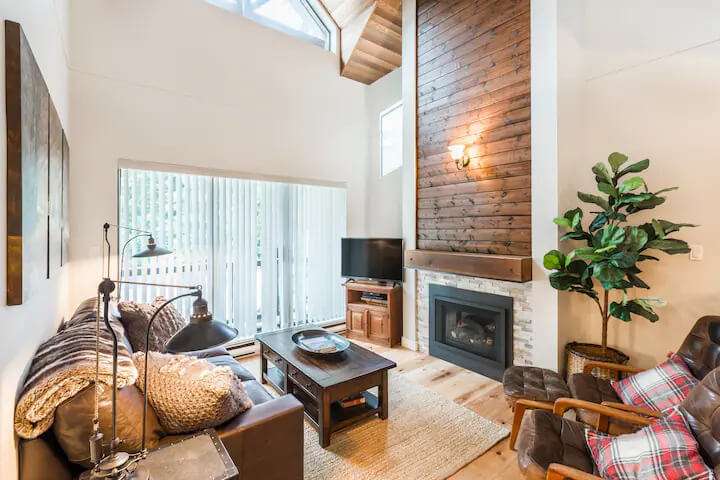 This 3-bedroom house during last year performed 36% better than similar listings in the area, resulting in 60% total occupancy. Earnings for the same period (from November 2021-2022) were $ 149,347 CAD.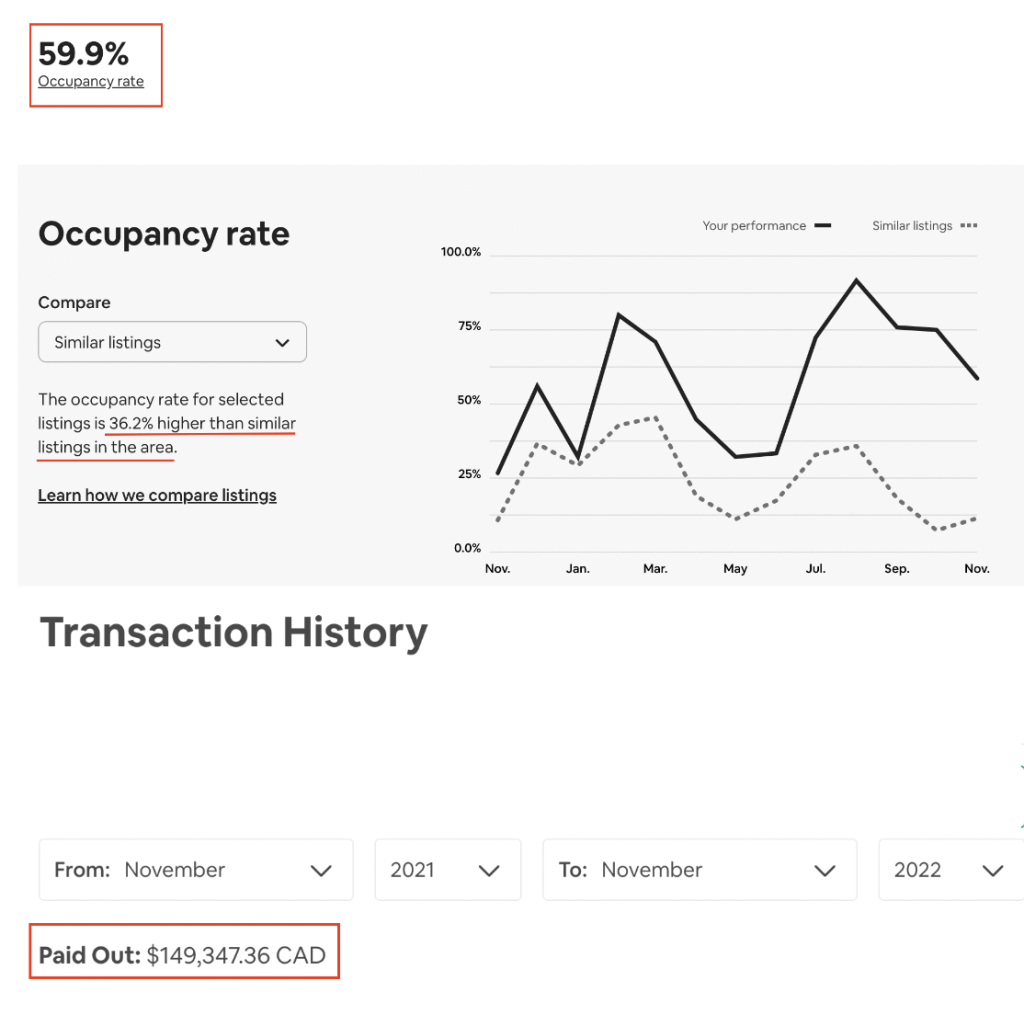 —– CASE STUDY 9
★4.88 Carleton Lodge, 4280 Mountain Square – 2 bedroom condo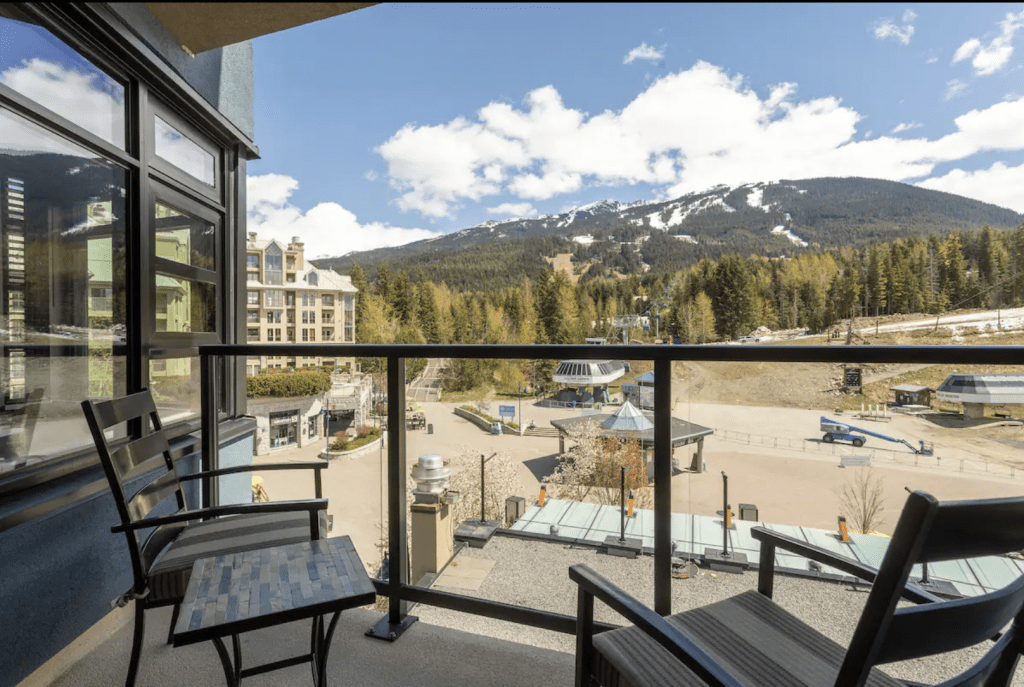 This 2-bedroom condo overlooking Whistler mountain base performed, in terms of occupancy rate, 23.6% better than other units in the lodge. The total occupancy rate from November 2021 to 2022 was 56.2%. Earnings for the same period were $ 117,443 CAD.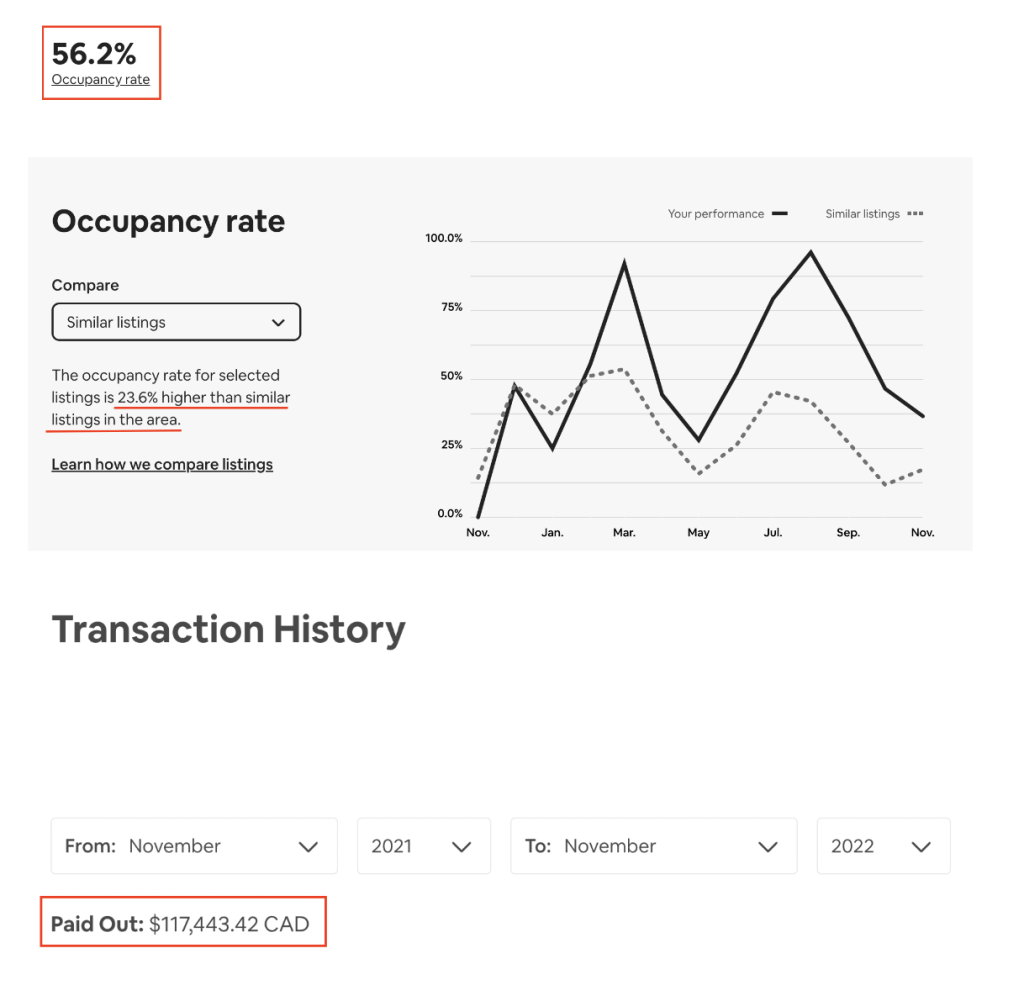 FREE NEW EBOOK!
13 Pro Tips to get more Airbnb bookings
Learn from the pros the 13 proven strategies to earn more on Airbnb.
What our customers are saying
Bill Athwal
It's all 5 stars from accommodating my needs in a timely fashion to maximizing revenues because of flexibility to market conditions. Also assisted immensely during Covid.
Hardeep Gill
Leo has managed our unit at Marketplace for 3 years. He has been nothing but proactive when it comes to managing my property. Leo and management look after my property and the visiting clients equally with great professionalism and care. I would most definitely recommend others to use Bold management to look after their properties.
Barry Johnston
We have been with AtEase BnB for almost 6 years now and have nothing but praise for the professional and convenient service they offer, all at a reasonable rate. Anything that needs to be done for the rental unit is arranged and carried out promptly, by their local representative. Bookings are up and so is the income, we are very satisfied with AtEase BnB, the guests leave good reviews of the property and the service, they make it easy for us.
Bill Tee
AtEase BnB has managed our Whistler property for 5 years. The relationship has been truly satisfactory. We were very pleased with how AtEase BnB stick handled the management of our property through the covid pandemic. AtEase BnB has consistently generated sufficient rental to keep us running in the black. We commend AtEase BnB for their earnest deligency in maintaining our property.
Top 10 Frequently Asked Questions
---
Have more questions?
Talk to an expert.