Becoming an Airbnb host is an exciting time full of potential. However, both new as well as experienced hosts, face that one million dollar question – How should I price my Airbnb? In this article, we'll discuss how to price your short-term rental and the factors involved in it.
Determine your overhead costs
Firstly, you have calculate all of your overhead costs per month with your property.
Mortgage
Bills
Supplies and amenities
Cleaning
Property management fees
Marketing costs
Contingency budget
Insurance
You need to know how much it takes to maintain your rented property so that your price accounts for these costs and you can earn a profit. 
Calculate the costs of using Airbnb
Before settling on a price, make sure you understand all of the additional fees the Airbnb website charges you as the host. This will prevent unexpected fees, damaging your profits. These fees are:
The host-only fee, or split fee
Airbnb service and experience fees
Split fees are when the guest and host share the fee that Airbnb charges for the booking. The host pays about 3% while the guest pays about 14%. The host-only fee has the host pay between 14%-16% while the guest pays 0%. The latter is usually mandatory since 2020.
An experience fee of about 20% is also charged to the host's payout to cover the products and services of Airbnb, such as Airbnb's insurance for host properties. This fee will vary based on the host-only or split fee, dynamic or long-term pricing, local taxes, etc.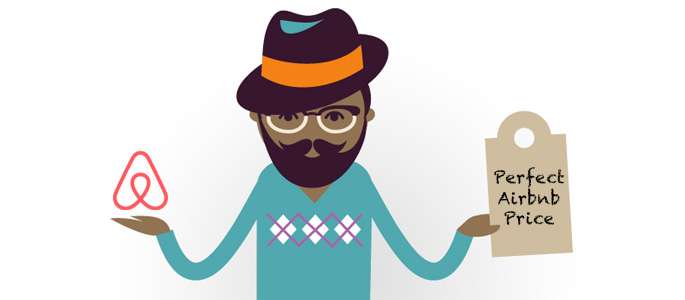 See how Airbnb breaks down its prices
When you see other listings on Airbnb the site neatly itemizes the fees a guest can expect to pay. The total cost is broken down as
The base rate per night (as determined by you, the host) is multiplied by the number of nights stayed. This price is usually increased based on how many guests will be staying.
One-time cleaning charge
Service fees charged by Airbnb
Determine your preferred pricing method
Approximately 60% of your profit will come from your property's value, its location, and the amenities and facilities it includes. The remaining 40% of the profit will be dependent on how dynamic your pricing strategy is.
The most common pricing methods are:
Price per night
Derived pricing
Length of stay
Discounts and special offers
Regardless of which you choose, renters won't see your property worth the same value all year round. A dynamic pricing strategy allows you to raise and lower the price of renting based on the times of the year when going one way or the other is the most advantageous for you.
Have you ever wondered what is the rental revenue potential of your Whistler home? Get in touch with us and sign up for FREE rental revenue forecast within 24 hours guaranteed! Just click the button below, fill out your address and submit! It's that easy!
---
Resources: