In April of 2018, investors were caught a little by surprise when Whistler overtook Vancouver as Canada's hottest housing market.
A detached house in Whistler was going for about 4% more than a home in Vancouver. And, it's safe to say that the trend has continued through 2019.
Of course, numbers like this make investors stand up and take notice, so let's delve deeper into the current state of Whistler's short-term vacation rental market.
Looking at results published by Zolo, Canada's leading tech-powered brokerage, we see a rebound in the price of detached homes after a slight drop during the early summer months of 2019. The mid-August median price of a home in Whistler is a little shy of $2.5 million, while the Average price is coming in a bit below $3.4 million.
In May of 2019, both the average and median prices were sitting around $1.7 million, after February's high, where the average passed $3.5 million, and the median went beyond $3.8 million.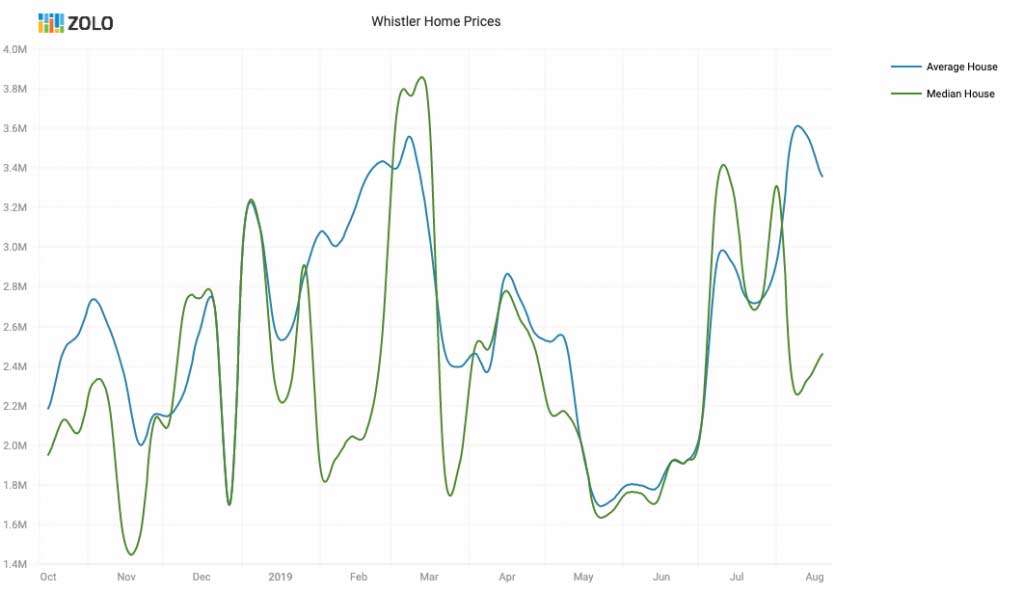 In looking at the chart above, spanning October 2018, until mid-August 2019, we see that the old trend lines are holding. Despite Whistler's evolution into a year-round vacation destination, the market prices for purchasing a home seem to maintain their highest numbers during the peak of the ski season and in the months leading up to it. Although, last November's dip and the July rebound, may be indications that the trends are shifting a little.
For investors looking to purchase a Vacation Rental property, the cost of buying in has risen. However, so too has the popularity of Whistler as a destination for tourists.
Interestingly, one of the top reasons for domestic investors buying into the Whistler area has to do with the escalating costs of staying in the resort town. The prices of hotel rooms and vacation rentals have continued to increase. For many visitors from the Vancouver area, the idea of investing in a property for their personal use, made affordable by a steady stream of renters throughout the year has become considerably more appealing.
For example, a 2018 Financial Post article noted that Whistler is Canada's most expensive New Year's Eve destination. The cost of a one-night hotel stay came in at $745, with the second most costly Canadian New Years destination being Quebec City, where a similar room goes for $414 a night. And, based on what we see this year, we feel comfortable asserting that the New Year's Eve 2020 will be even more expensive. From current trends, it looks like the median vacation rental prices will be at around $1,000 for that single night in Whistler.
When we investigate further into the potential revenue a vacation property can earn, we start to see why even those people who only plan to visit Whistler once a year have come to understand the benefits of ownership.
Using data collected by AirDNA, an international aggregator of short term rental data, we see that the annual, monthly median revenue for homes in Whistler is $4,283. This factors in the total nightly rate plus cleaning fees, and looks at all "entire home" listings with at least one booked day in the last month. And, when we consider year-over-year, this represents a 57% monthly increase. The overall average daily rate in the previous one year period to date was $330, with a peak of $518 last December and a low $225 in October.
Whistler is always among the top winter destinations in the world, popular among Canadians and a large selection of foreign tourists.
As we track guests coming into the city, one of the key trends we're watching is in the rise of international visitors.
The 2010 Winter Olympics helped etch Whistler as an exciting destination well beyond our borders, launching a year over year rise in the number of people choosing to spend their vacations here. If we merely look at the international guest numbers for January from 2017 through 2019, we see a substantial climb. Beginning in 2017 there were 4,935 guests, in 2018 there were 8,722, and in 2019 that number went to 9,268. Understandably, most are still coming from the United States, with 7,514 hailing from Seattle in the past year. The highest number of overseas visitors came from London, England, with 1,370.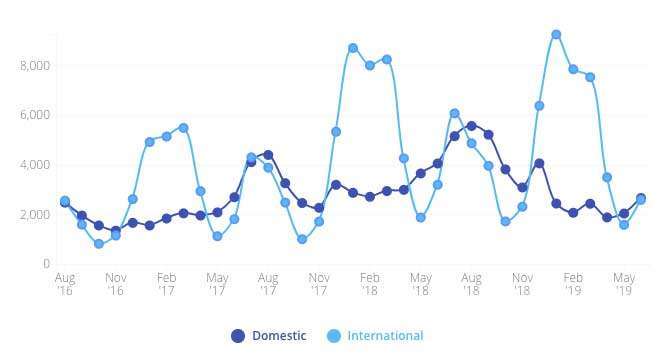 However, what may be of particular interest to those who own a vacation rental in Whistler is the rise in Domestic Summer guests. Over the past two years, the number of August occupants has grown from 2,493 in 2016, to 4,414 in 2017, to 5,580 in 2018. Canadians are coming to Whistler more in the summer than they are in the winter. Although that doesn't mean they have the place to themselves. The total number of guests for this past month was 5,347, with 49% of that number being foreign visitors.
It used to be true that Whistler was a Ski town that emptied when the chairlifts weren't running. What this meant for vacation property owners was that you needed to make as much revenue as possible during that winter season. For many invested in Whistler, they had to attempt to balance their personal use of the property with the desire to have enough rental income to cover the mortgage and operating costs over only a few months. Today, Whistler is entirely a four-season destination, with restaurants and activities fully subscribed throughout the year.
Even now, the current occupancy rate is 60%, representing a 33% monthly increase. Moreover, the lead time for current August bookings is 69 days, indicating an enthusiastic interest in planning summer rentals in Whistler. This increased summer demand has meant that vacation property owners can have more flexibility in selecting dates to use their property personally, without jeopardizing revenue.
Of course, the year-round interest in Whistler has meant the municipality has to deal with a lack of affordable housing for people who live and work in town. Even though Whistler is a purpose-built resort town, the real estate jump in the last number of years has made it challenging for some to secure affordable housing. City workers, resort staff, and seasonal employees have been struggling to remain in Whistler.
This challenge has seen the creation of the Whistler Housing Authority, dedicated to ensuring that people who work in town can live in the community. And they've had considerable success at creating affordable accommodations and selling city-owned land under contract for housing with restricted resale value to prevent it from escalating in price. While staff housing can seem a remote issue when purchasing a vacation property, it can potentially cause significant problems. If businesses can't operate because their staff can't afford to live in town, it can very quickly erode the desirability of the location overall. In short, a lack of affordable housing in a community can have a substantial impact on the long-term market value of vacation properties.
The hotels, resorts, and businesses operating in Whistler are also taking the housing issue seriously. Scandinave Spa built five employee housing units on-site when it opened in 2010. Since then they've bought an additional staff property in nearby Cheakamus and actively assist employees in finding rental units. Whistler-Blackcomb has announced plans for a dorm-style complex with approximately 200 beds with rental prices less than $400 for the staff of the resort.
Overall, Whistler is still a resort city with room to grow. The municipality is actively engaged in managing expansion and ensuring that development keeps pace with resort demand. Foreign tourists have increased substantially, and local guests still see Whistler as an ideal vacation spot, even when the snow has disappeared. Possibly most importantly for vacation property owners, rental rates have continued to climb at a steady yet sustainable pace.
---
Own or thinking about purchasing a vacation home?
Get an accurate airbnb revenue estimate
---