Letting your property privately or on Airbnb will ensure you a significant yield on your investment, but which strategy is most profitable? Check out our Airbnb versus renting comparison.
Pricing
Renting on the private market will see tenants and landlords enter into a lease agreement. The length of tenancy is usually at least 6 months. It will have a fixed rent agreed for the entire rental period, providing the landlord with a regular, steady income. However, the landlord will not have the flexibility to adjust their rates during the tenancy term.
Short-term rents on Airbnb allow a far greater degree of pricing flexibility. Hosts can adjust what they charge depending on a range of variables. Some may have different rates for midweek and weekend lets. Others may choose to set higher rates during high tourist seasons where demand is more significant.
The per-day amount an Airbnb can host will be more significant than the comparable yield on the private market. However, with the transient short-term nature of the holiday rental market, occupancy rates in Airbnb properties are usually lower.
Expenses
A long-term tenancy agreement will set out what costs the tenant is liable for and which expenses would be down to the landlord to cover. Everyday household and utility bills would be covered in the rent or separately in the tenant's name. Landlords would be liable for larger-scale repairs to the property; however, these costs would occur infrequently.
Managing an Airbnb property brings more regular costs. Suppose you choose to host the property yourself. In that case, you will need to ensure that it is kept up to the highest possible standards and be responsible for the cleanliness before the arrival of each new tenant. Many hosts, however, pass cleaning expenses onto customers as part of their rent.
Additional costs of renting your property via Airbnb can include using a property management company. They will liaise with your customers, collect the rent, and ensure the property is clean and fully stocked, removing the stress from your life.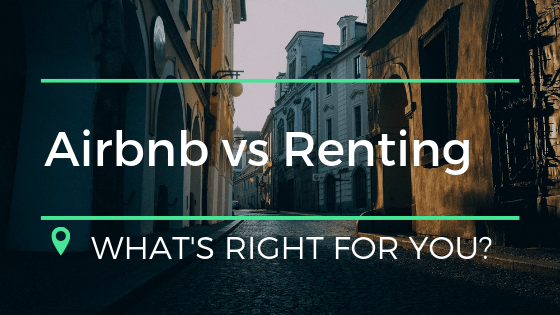 Airbnb or Rental – Which is More Profitable?
A higher turnover rate of tenants involved with the short-term letting market can mean a lot more work and expense for the homeowner. However, by renting your property through AtEase BnB Whistler, the dividends you could reap would be sizeable and well worth the investment.
The earning potential of letting your property on Airbnb is considerably more significant than the yield available on the private market. It's mainly because of the higher nightly rates chargeable in the short-term rental market. Additionally, the flexibility of adapting to market conditions by increasing or decreasing prices based on demand, seasons, and the day of the week, can substantially improve earning potential.
---
Own or thinking about purchasing a vacation home?
Get an accurate airbnb revenue estimate
---