Both Whistler and Banff are world-class skiing destinations. People come from every part of the globe to both of these western Canadian ski-towns to find hills and powder that doesn't exist anywhere else.
So, how do you decide which one is better for you? Before we delve into the comparisons between these two snow-sport hotspots, we must establish that we are genuinely comparing diamonds. Both of these destinations are in the upper echelons of skiing and will provide an incredible downhill experience for even the most avid enthusiast. We're merely going to help you decide which one is the right choice for you.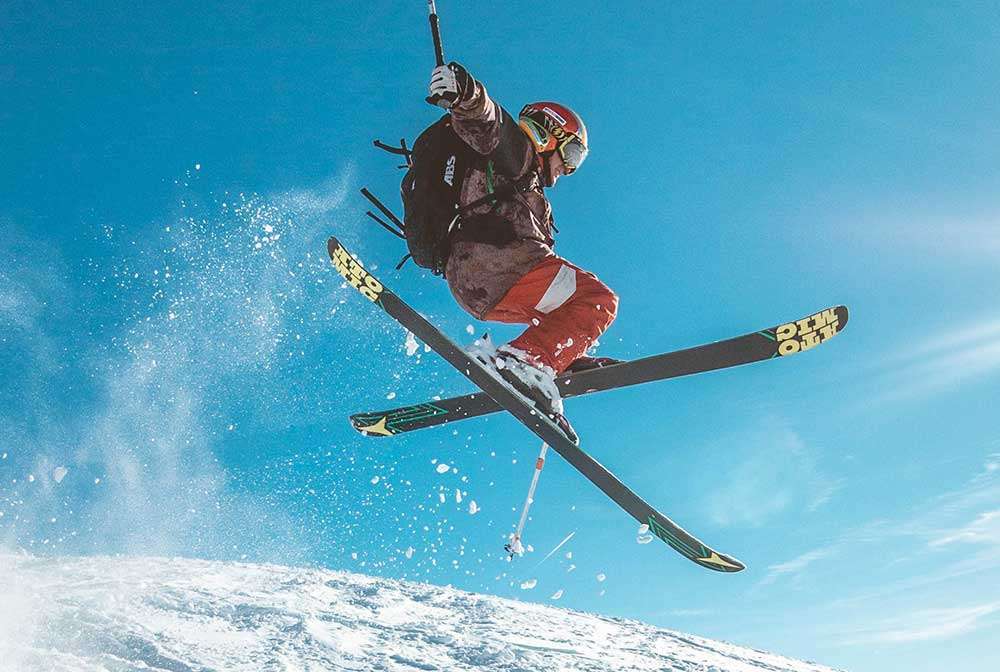 The Basics
When it comes to Whistler, you have two incredible mountains that are accessible from one town custom-built to take advantage of their downhill capabilities. With Banff, you have three separate resorts that are all in relative proximity to each other; Sunshine Banff, Mt. Norquay, and Lake Loise.
When measuring skiable terrain, with Whistler Blackcomb, you have a total area of 8171 acres. Banff comes close with 7558 acres spread between the three resorts.
Undoubtedly, the number most ski fanatics are paying attention to is the vertical rise or, more plainly, the distance in elevation between the top and bottom terminals of a ski lift. Which is to say, the length that you can ski before having to ride back up to do it all again.
Banff Resorts Vertical Lift
Sunshine Banff: 3514 feet or 1071 meters
Mt. Norquay: 1650 feet or 502 meters
Lake Louise: 3250 feet or 990 meters
Whistler-Blackcomb Resort Vertical Lift
Whistler Mountain: 5020 feet or 1,530 meters
Blackcomb Mountain: 5133 feet or 1,565 meters
Snowfall
When it comes to snow, the first thing to mention is that both locations get plenty of it. And, all four resorts are outfitted with snowmaking equipment for those times when mother nature decides to take an ill-timed holiday.
If we look at each of the mountains, the numbers vary, but we can get a general idea from the annual snowfall averages.
Sunshine Banff: 410 inches
Mt. Norquay: 120 inches
Lake Louise: 144 inches
Whistler and Blackcomb Mountains: 402 inches
Although the one area where there is no comparison is glacier skiing. Whistler is the only resort in North America where this is possible, and there are three to chose from.
Origins and Climate
While both Banff and Whistler are located in the west, they are actually in two very distinct mountain ranges. The Coast Range, home to Whistler and Blackcomb, were formed through volcanoes and tectonic pressure that gave them a generally softer, more rounded appearance. Banff, on the other hand, is part of the Rocky Mountains, a chain running more than 3,000 Kilometers from the top of BC through to New Mexico in the South. The Rocky Mountains, as an inland range, comprised of ancient seabeds, are known for their striking peaks and defined cliff faces.
What may be more important is that these two mountain ranges have very distinct weather patterns. Both create great skiing opportunities but do it quite differently. The Coast Range, being closer to the sea and barring the marks of a temperate rainforest, the winters are cold and wet, usually hovering around the freezing mark. By contrast, Banff has a subarctic climate that tends to feel colder and dryer, with temperatures staying in the minus ten Celsius range.
More than Skiing
Of course, no matter how devoted you are to the slopes, a ski vacation is always about more than skiing. From the dining options to the hill-side hot chocolate to the accommodations with the crackling fire, the comparison continues.
Dining and Nightlife
When it comes to places to eat and where to spend your evenings, Banff and Whistler both have great options. However, like the distinctions between the Coast and Rocky mountains, they go about it quite differently.
Whistler
Whistler, as a purpose-built ski resort town, is a mature, sophisticated scene that knows how to have fun. Many restaurants in the village can compete with the best Vancouver establishments and attract foodies the world over to experience what renowned chefs have created at the bottom of the lifts. Of course, Whistler also has a good assortment of pubs. Not to mention, relaxed restaurants that are perfect for families or folks looking to get a quick bite before heading to bed after a long ski day. When you want to wander out for a drink among friends, Whistler continues to impress. There is an abundance of local craft breweries that have developed enough clout to fill out an annual festival.
Banff
Not to be outdone, Banff has some incredible places to eat. However, because Banff was built within a National park, the expansion of new dining establishments has happened at a much slower pace. There is a good local pub scene, but for a higher-end dining experience, the dominant players are still the institutional locations like the Banff Springs Hotel. When it comes to nightlife, Banff knows how to have fun, as the local bars transition from dining to a great party.
Accommodations
When it comes to finding a place to stay, the two cities have taken different approaches for very good reasons.
Whistler
Whistler-Blackcombe, being created from the ground up as a resort town, has worked at developing world-class hotels. However, there has been a considerable effort made to work with independent vacation homeowners to allow them to offset their costs through short-term rentals. And, by working together, Whistler has been able to meet the growing occupancy demands placed on the town by continually increasing visitor numbers. Of course, there have been growing pains as the municipality determined how to meet the needs of investors while supporting local residents. The solution has consisted of creating a subset of real estate opportunities for local residents that will not appreciate at market values. As well as developing partnerships with businesses to build housing specifically for resort staff at affordable rates.
Banff
The difference in Banff has much to do with this ski-town being inside of a National Park. As part of the regulations of the park, to live in Banf, you need to work in Banf. Subsequently, this has meant that investors looking for a vacation property have not had access to this popular ski spot. The next closest town, Canmore, Alberta, has taken an active stance against short-term rentals. And, while you will regularly find a good number of listings on Airbnb, the potential for up to $5,000 fines and listing removals have made for an unstable market. All of this meaning that most accommodations are done through the established hotel chains and guest home-type reservations are harder to come by. Canmore does allow select homes in tourist zoned areas to offer short-term rentals, so be certain to check that a property has the correct permits to be sure it will be still available at the time of your arrival.
Attractions
When it comes to activities beyond skiing and snowboarding, both resort towns offer a wide array of activities. Snowshoeing, sledding, and ice-skating are readily available. Or if you're looking to spend a day inside, the shopping, museums, and spa services are top-notch in both places. When you're ready to plan your trip, the best place to start is the tourism board. In Banff begin here, and in Whistler, start your search here.
Proximity to the Airport
When it comes to getting to these popular ski destinations from local airports, both are reasonably accessible. And, both offer stunning views along the way. Banf is about a one and a half-hour drive from Calgary airport into the Rockies. Whistler, on the other hand, is closer to two hours from Vancouver airport along the Sea to Sky highway. If you're feeling like you would rather not worry about how much snow is on the road, both resorts are accessible by airport shuttle service. Whistler Shuttle Banf Shuttle
So which one is Better?
The truth is, both Whistler and Banff are amazing resorts, and your family is bound to have a blast at either location. However, if we had to choose our favourite, it would be Whistler. The town of Whistler was designed with skiing vacations in mind. The restaurants are incredible, the layout makes it easy to wander from place to place, and slopes are long and plentiful. We also really like that it's easier to invest in Whistler as a vacation homeowner, and as a visitor, there are more options to rent entire chalets to house the whole family.
---