How can I make my Airbnb listing more desirable to potential guests and earn more? This is the question of every Airbnb host. In this article, we will provide step-by-step instructions on how to optimize your Airbnb listing.
Reach Top Listings
It's one thing to make it through general listings with a good location, the right availability, and some good amenities, but it's another to reach the top choices.
What can you do to make it to the top listings? By being convenient, professional, and transparent.
Add convenience to potential guests by making 'Instant booking' an option. Or do your best to decline only the bookings you suspect will be trouble beyond a reasonable doubt. This will increase your credibility with other potential guests.
Collecting great reviews from previous guests will make Airbnb notice your popularity and bump up your ranking. The best way to achieve a great review will be by exceeding the guest's expectations. With regards to the property and your professionalism – respond to inquiries and bookings promptly.
Routinely update the pictures you use for the property, the price, and your descriptions for the property. You should have at least 12 pictures of your property, with no repeat pictures, of good quality, and show off the best without promising too much.
Airbnb also likes seeing all of the listing info-boxes filled. They find this helpful and will bump up your listing.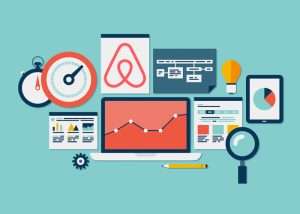 Get Clicked on
You're top-notch, now get more people to click on your listing. You can accomplish this with a good listing title, great listing image, and the reviews you gathered before.
Your listing title should highlight the property's construction attributes and greatest feature. For example, if your property has 3 bedrooms, 2 bathrooms, its own gym, and a view of the lake, your title would be "3 BR + 2 BATH + Gym – Lakeview Condo."
Put your best foot forward with the best possible picture you can get of your property that is at the same time realistic to what your property offers.
Book Successfully
Once a potential guest clicks on your listing, your plethora of amenities and marketing copy will give the final push. The copy should answer common questions guests have in a succinct but friendly way. Examples are:
Are towels included?
Is there free and additional parking?
Can I get a discount?
Can I host a party?
Try to think of questions you would ask if you were a guest. Your copy should also emotionally connect with the guest and make them excited about your property via their comforts and sensory descriptions. Lastly, invite the reader to contact you with any questions or concerns and that you will respond as soon as possible.
Conclusion
As you prepare your property and listing for the spring and summer-time travellers, know that You have a team at AtEase BnB that can help you optimize your listing.
---
Resources: