Whistler is the ultimate Canadian playground no matter what time of year you're there. Most people, especially now, after it having played host to the 2010 Olympic Winter Games, think of Whistler as an amazing ski resort. And it is that. But it's so much more and packed full of excitement all year long. If you haven't experienced Whistler when the snow melts, you're missing half the story.
But, since winter is what most people know the resort town for, let's start there and look at the many things you and your family can get up to.
10,000 vertical feet for skiing/snowboarding
We have to start with the obvious. Whistler is known for its incredible downhill winter activities. People flock from all over the world to take advantage of more than 8,100 acres of snow-covered slopes, 16 alpine bowls, three glaciers, world-class terrain parks and over 200 marked trails.
Of course, if you're one of those people interested in taking to the top and going beyond the lift, there are Heli Skiing packages that get you where the air is rarefied. With wide open terrain and absolutely no gondola lines to contend with. Now, if you really want to earn your supper, you can take advantage of a Backcountry Tour. Your group and an ACMG certified guide will hike in, and up, and experience rugged mountains turns at their finest. Definitely not for the faint of heart!
And if you're one of those people who can't see Whistler as anything other than a ski town, remember that the ski season runs from November to May. And of course, Blackcomb has Summer glacier skiing from early June until about the middle of July. So we're really not talking about a lot of down time if you dying to strap those skis on!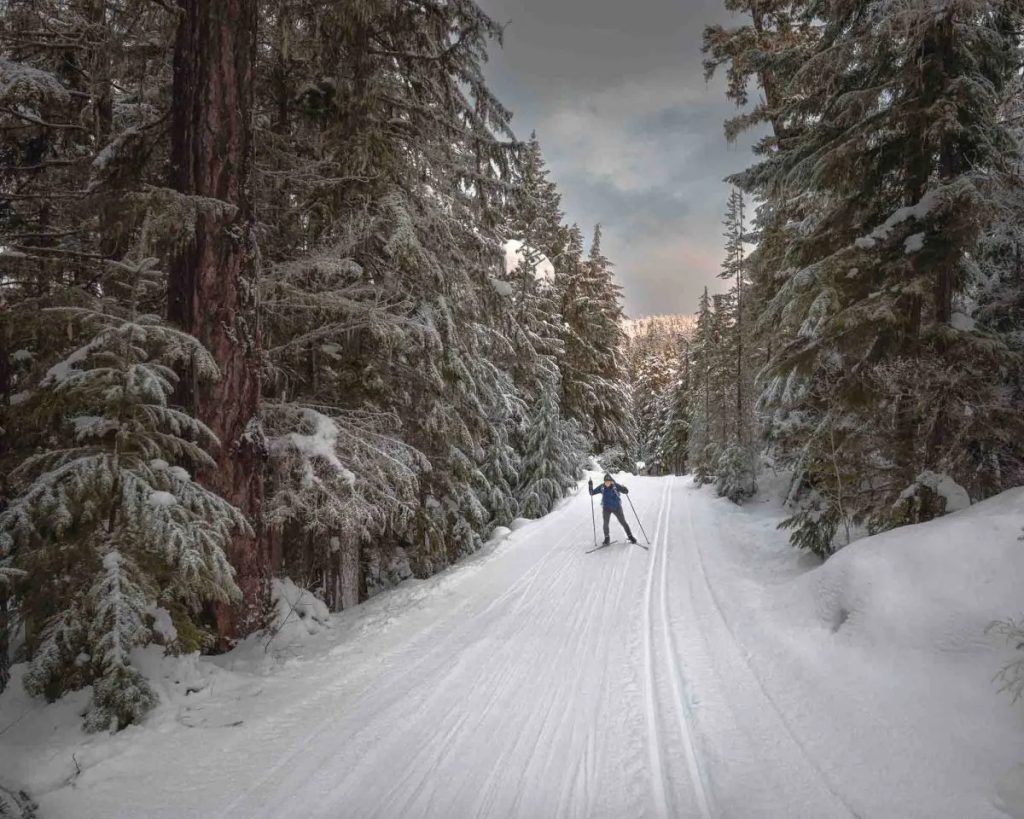 Nordic Skiing
Otherwise known as cross-country skiing. It's never made out to be as glamorous as the downhill variety, but when you're sliding through over 160 km of beautiful wilderness trail you may start to wonder why you hadn't picked it up sooner. Of course, having had the Olympics not long ago, Whistler has trails perfect for those just giving it a whirl through to Olympic level trails, if you really want to test your abilities. Whichever level you are at you're in for some truly breathtaking scenery.
Whistler Village
It seems like an odd one to list as something you can get up to! But, the Village is constantly alive throughout the winter with live concerts, tasting tours through the best restaurants, cultural installations, and an all around vibrant atmosphere as people from all over the world revel in everything Whistler has to offer. And while the heaters, blankets, and hot toddies keep you warm outside all winter, the fun keeps going all through the summer in the Village, exchanging the blankets and hot drinks for sunshine and cocktails.
Dog Sledding
This has to be just about the most Canadian activity you can think of, with the possible exception of hockey. If you need a break from going down the hills or across them, why not let a pack of dogs zip you and your family around them. This is an adventure you will not soon forget as your experienced handler navigates you through the mountain wilderness with a team of specially bred Arctic sled dogs chopping at the bit! Your kids are never going to stop talking about this adventure.
Snowshoeing
If you can walk, you can snowshoe. This age-old way of getting about in the snow was brought to us by Canada's Indigenous people, who quickly realized that by spreading out the weight over a broader surface they could keep their feet from sinking in the snow. It's an ingenious bit of physics that allows people today to wander about the miles of winter trails Whistler has to offer without coming back soaked and exhausted shortly after leaving. It's the sort of activity that keeps an entire family active and exploring for hours.
And then, of course, there are the other winter staples like skating and sleigh rides and the more invigorating winter pursuits like ice climbing, bobsledding, and so much more. It would be next to impossible for you to get through the entire list of winter things to do in Whistler in just one winter.
Whistler of today is widely known for its abundance of things to do when the snows come, but we couldn't make the claim to the title of Canada's playground if the fun all melted away with the slopes. Far from it. Putting aside Whistler's summer ski season, there is still so much happening all over the mountains when they aren't covered in powder.
Mountain Biking
This is where you make your bike finally earn its name! When the snows clear, the trails open and the Whistler Mountain Bike Park becomes one of the star attractions. Downhill bikers come from all over the world to take advantage of quite possibly the best gravity-fed downhill biking experience. The courses range from beginner to world class and you can take advantage of the chair lifts in the Village to get you up top for the ride down. And if you're more into a ride through the trails, as opposed to straight down the mountain, Whistler's trails wrap around the mountain and can provide leisurely excursions or hard pedaling, twisting turning, adventures.
Hiking.
For those looking to get out and breath a little fresh air and maybe disappear for a while, Whistler and Blackcomb Mountain's extensive trail network is one of the best hikes you can do. Granted it's a hike that may take you several years to complete. And, just to mix it up, if you make your way up one Mountain, the Peak-to-Peak Gondola is open all year round to take you across so you can amble down the other.
Mountain Top BBQ Series.
After walking up one mountain you are most certainly going to want to fill up prior to walking down the other! What better way to do just that than with a BBQ at the mountain's peak?! Sit back and enjoy a first class meal while you take in the breathtaking views from the top of the world. And don't worry, if walking up a mountain sounds a touch too ambitious, the lifts in Whistler Village are there to whisk you to the top. If you wear a good pair of hiking boots no-one will be any the wiser that you took the leisurely way up.
Golf. Yes, golf!
You know Whistler for Skiing, but with all that awesome downhill action it seems Whistler's golf courses sometimes get overlooked. However, if golf is your game Whistler is exactly where you want to be. Whistler has four world-class golf courses, which when you think of it is not that surprising given that golf was invented in the highlands of Scotland. What you might also not be aware of is that Whistler's four golf courses were designed by four pretty big names in golf. You may be familiar with Robert Cupp, Robert Trent Jones Jr., Jack Nicklaus, and Arnold Palmer. And then, of course, there is the fresh mountain air and the views. There really aren't courses like this anywhere else! A typical season runs from April until October, which means you may be able to have some truly epic days where you can squeeze in a round of golf in the morning and a little Alpine Skiing in the afternoon.
White Water Rafting
One of the best ways to get your blood pumping is by barrelling down a raging river in a raft with your family and friends! There are four such rivers to choose from and each one allows you to paddle like your life depends on it or simply hold on tight and enjoy the ride. Whether you're on the Green, Lower Cheakamus, Elaho, or Squamish River there is an appropriate package for you depending on just how fast you want to get your heart racing. For the uber-adventurous or family fun day trips, white water rafting is not to be missed.
Of course, we've barely begun to scratch the surface! There is still ziplining, treetop adventures, Jet Boating, 4×4 Tours, horseback riding, bungee jumping, rock climbing, and more. If you've only been to Whistler in the winter you are missing out on so much.
We didn't even get into the cultural installations. If you need a break from the non-stop activities, the Audain Art Museum is Whistler's newest cultural must see. The iconic building, just outside the Village, is home to a permanent collection of artworks from British Columbia, and hosts exhibitions from leading museums around the world. As part of that permanent collection, the museum has a phenomenal assortment of nineteenth-century Northwest Coast masks, one of Canada's strongest Emily Carr collections, a selection of Vancouver's celebrated photo-based art plus a gallery devoted to West Coast artist Edward J. Hughes.
There truly is something amazing to get up to in Whistler 365 days a year. The only question is how many vacation days do you have?
---
Own or thinking about purchasing a vacation home?
Get an accurate airbnb revenue estimate
---