It doesn't matter how shiny your Airbnb listing is, nor how many mod-cons there are available. If your guests do not get a great night's sleep, they will be sure to let others know through the power of the review.
Guests typically use Airbnb rentals as a base while on holiday and want somewhere comfortable to return. Most of the time guests spend in your holiday home will be in bed, so it pays to deliver a great sleep experience. By following these simple guidelines, it's possible to guarantee them a great night's sleep and yourself a host of five-star reviews.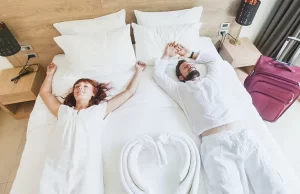 Great Mattress = Great Sleep
Investing in a great mattress will be one of the soundest investments you could make. Ask yourself whether you find the bed comfortable. If not, why expect anyone else to do so. Old, well-used mattresses will lose their support and become uneven, lumpy, and highly uncomfortable. Replacing these mattresses with brand new ones will do wonders for your guest's chances of a peaceful night's rest.
The use of a mattress topper can add an extra layer of comfort to your guest's sleep. For softer mattresses, toppers are less useful as they do not provide much support.
Luxury Bedding
Get the mattress right, and you're well on the way to deliver a great sleep experience for your guests. But, there's no point in having a comfortable mattress if the bedding doesn't complement the luxury feel of the base.
Switching light and airy summer duvets with thick and plush winter duvets will help your guests have a positive experience, whatever the temperature. Ensuring pillows are regularly changed and consider paying a little more. High-quality pillowcases can help extend the life of a premium pillow up to 6-times as long as a cheaper one.
Providing your guests with that lovely 'new bedding' feeling by investing in more expensive sheets and covers will also help give your guests a high-quality experience.
Room Ambience
Ensuring your guests can regulate the temperature in their room is a crucial component as well. Versatile central heating and air conditioning are necessary for getting repeat bookings, as is natural ventilation.
Also giving them the ability to control the level of light is equally important. Blackout curtains are excellent ways of blocking out summertime early morning light. In darker winter months, the use of lamps and dimmer switches will give your guests complete control over light levels.
Finally, decorating the room to provide a sense of cleanliness and rest goes a long way to providing a calm environment conducive to a great night's sleep. Minimalist design and low levels of clutter add to the feeling of cleanliness and will help to lull your guests into a deep sleep.
Looking for help to get your home ready before renting it on Airbnb? Let us take care of it for you. We will first go over your home's inventory and determine what is needed to provide the best possible experience to your guests. We will discuss the budget with you and purchase the items needed before professionally listing your property on Airbnb. All you do is sit back, relax and enjoy the progress your property makes.
---